President of Los Angeles Oaks Christine School visited Cogdel Education Group
Saturday, October 19, 2019
近日,美国洛杉矶橡树克里斯汀学校(Oaks Christian School)校长Mr. John Huffman受康德教育集团邀请莅临成都,参观访问金苹果锦城第一中学和康德教育集团总部。
Recently, Mr. John Huffman, President of Oaks Christian School of the United States, was invited by Cogdel Education Group to visit Chengdu and Golden Apple Jincheng No. 1 Secondary School and Codgel Education Group Headquarters.
10月18日上午10点,Mr. John Huffman一行在康德教育集团总裁王舒先生的陪同下来到了锦城一中,何刚副校长对Mr. John Huffman的到来表示热烈欢迎。双方主要就学校的基本情况、国际化教育等方面进行了深入交流。
Mr He Gang, the Vice Principal of Jincheng No.1 Secondary School expressed his warm welcome to Mr. John Huffman. The two parties conducted in-depth exchanges on the current situation of the school and international education.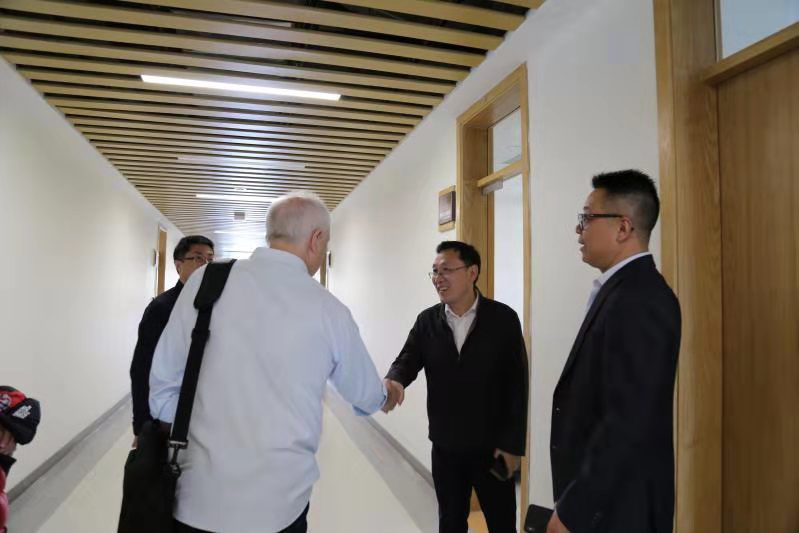 随后,Mr. John Huffman走进教室,与初三年级11班的学生们亲切交谈。11班的同学除了学习九年义务教育基础课程外,还将学习国际化的融合式课程。康德教育集团为锦城一中提供了国际理解选修课程,同时也将和锦城一中共建美式国际高中。Mr. John Huffman在和同学们的交谈中询问了哪些同学将来会申请美国加州系的大学,同时强调了申请美国大学时,最重要的是突出个体特色,寻求差异化。
Later, Mr. John Huffman walked into the classroom and had a close conversation with the class 11 students in the 9th grade. In a conversation with students, Mr. John Huffman asked how many students would apply for a California-based university in the future, and emphasized that when applying for a US university, the most important thing is to highlight individual characteristics.
紧接着,Mr. John Huffman一行又来到了锦城一中附属小学,与3年级的小朋友进行互动交流。小朋友们积极主动,场面生动热烈。
Then, Mr. John Huffman and his entourage came to the Jincheng No. 1 Affiliated Primary School to interact with the third-grade students. The children are active, lively and enthusiastic.
离开锦城一中后,Mr. John Huffman来到了康德教育集团总部,与王舒先生围绕国际化办学、创新人才培养及未来合作等方面进行座谈。座谈在轻松愉快的氛围中进行。短暂的时间里,双方不仅进行了深入的交流,还增进了相互的情谊。
In the end Mr. John Huffman visited the headquarters of Cogdel Education Group and had a discussion with Mr. Wang Shu (President of Cogdel Group) in regard to international education, innovative talent training and future cooperation. The discussion was in a relaxed and pleasant atmosphere, the two parties not only had in-depth exchanges, but also enhanced mutual friendship.
洛杉矶橡树克里斯汀学校简介
Introduction
洛杉矶橡树克里斯汀学校(Oaks Christian School)是美国加州顶尖高中,是一所独立的大学预备男女走读学校,提供6-12年级教学,于2000年建立,发展非常迅速,得到了西部学校和学院协会(WASC)的认证,是加州独立学校协会(CAIS)的会员。
Oaks Christian school is one of the top high schools in the United States which was founded in 2000. It is certified by the Western Association of Schools and Colleges (WASC) and it is also the Member of the Independent Schools Association (CAIS) in California.